Dental Clinics
Helping Patients While Enhancing the Student Experience
"Professional! My dental student is a perfectionist. I never had a question or concern. I felt very relaxed."
Colleen Bray
Student Treatment Clinic Patient 
Saskatoon West Dental Clinic

Built and operated on a private practice model, Saskatoon West Dental is owned by the UofS College of Dentistry.
Hospital Dental Program RUH

The College of Dentistry is responsible for the operation of a General Practice Residency (GPR) Program with two locations.
Clinic 120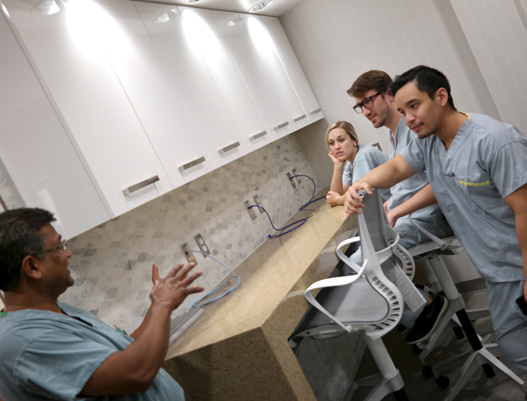 Helping Patients While Enhancing the Student Experience
At the U of S dental clinics patients are provided up-to-date and evidence-based care by students under the supervision of licensed dentists with state-of-the-art technology.
A wide range of dental patients receive specialized care at the U of S dental clinics. Citizens with limited financial means receive treatment at the Student Treatment Clinic, underserviced neigborhoods and underprivileged citizens of Saskatoon receive dental care at Saskatoon West Dental, and, pediatric and adult dental emergency patients are treated at the Hospital Dental Department at Royal University Hospital.
The quality of education provided to the new generation of U of S dental graduates enhances both the patient and student experience.