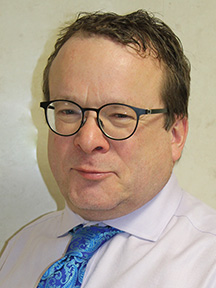 Research by College of Dentistry Professor Dr. Andrew Leask (PhD) is investigating ways to reduce the occurrence of fibrotic diseases, which currently account for almost 45 per cent of health care costs in developed nations. 
His work has received five-year funding of $1.04 million through the Canadian Institutes of Health Research (CIHR).
Fibrotic diseases such as diabetes, lung fibrosis and cancers are characterized by the excessive buildup of collagen-rich scar tissue, which results in the loss of tissue function. 
For people who suffer from scleroderma — a fibrotic, autoimmune disease in which dense scar tissue can collect in the skin, lungs, kidney and esophagus — the condition can cause loss of mobility, pain, disfigurement, and death.
Leask is investigating the mechanisms of a potential protein therapy that could be broadly used to treat fibrotic diseases, which currently have extremely limited treatment options.
"This CIHR grant will allow us to begin to test if BLR-200, a peptide molecule, can block or reverse the fibrosis seen in scleroderma," said Leask. "Our studies on this peptide, combined with our ongoing work on this critical area of research, should allow us to identify the fundamental mechanisms underlying fibrotic conditions, in general."
Following the funded investigation, the Leask research team together with Dr. Bruce Riser (PhD), CEO of biotechnology company BLR Bio, plans to design and begin clinical trials using BLR-200 to treat scleroderma, and then move on to other diseases such as lung fibrosis, solid tumour cancers, melanoma, long COVID, and fatty liver disease.
Leask's research is among five University of Saskatchewan projects awarded a total of $3.3 million in federal funding. The CIHR provided the funds under its Project Grant program, which supports research that advances health-related knowledge, health care, health systems, and/or health outcomes.