Rick Kroener's work with students is a crowning achievement.
In fact, crowns — along with bridges, dentures and other lab procedures— are all part of what students learn in the lab overseen by Kroener, an instructor and manager of lab facilities at the University of Saskatchewan's College of Dentistry.
The opportunity to teach, share his experience and support students as they learn new skills is a huge part of why Kroener looks forward to coming to work each day.
"After working in the field for over 30 years, the chance to work with students, pass on my knowledge and experience and continue my own learning was an opportunity I could not pass up. Troubleshooting together with students, faculty and patients creates great learning opportunities for everyone involved," said Kroener, who worked as a lab technician for more than three decades before transitioning to an instructor role with the college.
"It really has made me a better technician, because as an instructor I had to learn to listen differently. Students don't know what they don't know and that puts a different perspective on their questions. Because of this I have learned a particular kind of patience that I didn't have before. I've learned compassion for when they are stressed, and I am reminded to have empathy when I see them going through tough times."
Every dentistry and dental assisting student passes through the lab, which is tucked away on the fifth floor of the USask Health Sciences complex. Here students learn the traditional methods and principles of designing and fabricating dental appliances with conventional materials, along with cutting-edge digital dentistry methods where computer-aided design is combined with digital mills and 3D printers to create custom products.
Kroener appreciates the benefits of digital dentistry, but for students to fully understand what they need to do he believes they must start with the basics. Hands-on learning gives students a better grasp of not only how dental prosthetics are created and fabricated, but also their own role in patient treatment. He believes this experience will make them better clinicians.
"If we don't teach the students the basics and the principles behind everything that they will be making, using or prescribing, then they just trust the computer will do the thinking for them. It is not just about having things done the right way, but also understanding if something went wrong, when and why," he said.
"If you don't open a few doors, you might miss out on the chance to explore the greater field of dentistry. I help to open these doors to discover different perspectives. I try to provide the tools, so the students continue to question and try to find alternatives to solve a problem or create a design by going back to some of those already opened doors. A lot of times they (students) will panic because they don't know what they are doing. It is my goal to guide them through the process by pointing out the things they have already accomplished and learned so they become more self-sufficient in their thinking. Helping to create confident dentists is the end goal."
Making a connection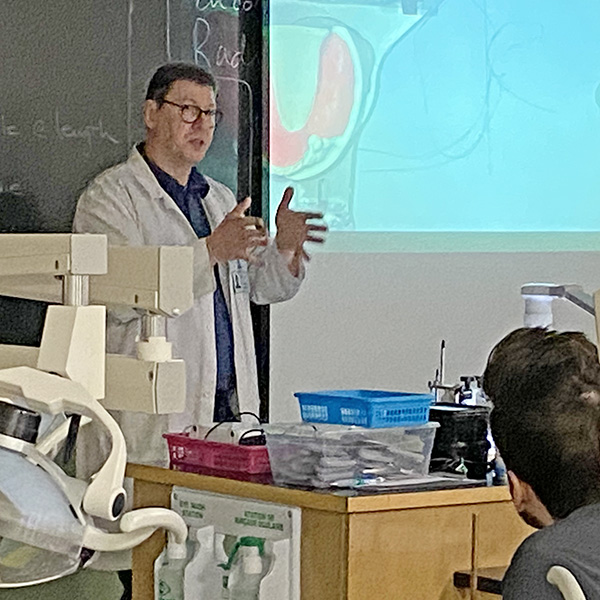 Making a connection with students is important. While class time is where instruction takes place, Kroener said learning often happens outside of the schedule when students come to the lab to work on their assignments or practice their skills. In his office, located off the lab, he tries to be available when students hit roadblocks, have questions or just require guidance.
"Sometimes, I come in early or stay late to help students, because that's when the real learning happens," he said. "Up until then they get all of the information, then they have to apply it and that doesn't happen during the day — it happens after class. If students run into problems or challenges, we sit down and go over the problems together. That is when we can do the real in-depth teaching."
Students who have passed through the lab have recognized Kroener's interest and commitment to their learning. Since starting in the instructor role in 2017 the Saskatchewan Dental Students Society has presented him with several preclinical teaching awards and additional recognition for his contributions to the preclinical and clinical program.
The role of instructor and manager of lab facilities is varied. Kroener's work includes involvement with all students in the four-year Doctor of Dental Medicine program. He teaches lab procedures to students in the Dental Assisting and International Dental Degree programs, assists with lab-related activities in dental anatomy and dental occlusion, removable and fixed prosthodontics as well as dental materials. He fabricates and creates teaching materials for many courses. Equipment maintenance and ensuring supplies are available in the preclinical area is also part of the job.
When students are on the Dental Education Clinic floor, they can call on him for assistance with difficult cases and he'll often spend time alongside the student to help reset teeth or even set up entire dentures with the patient in the chair. Being available in the clinic floor and discussing cases with students and faculty alike is one of the many times Kroener truly appreciates and enjoys his role at the college.
"To be able to work with students, faculty and patients in the clinic setting is a technician's dream — and I was given the opportunity to live that dream!"
Occasionally, when temporary fixed restorations are required to last longer in the patient's mouth, Kroener custom fabricates crowns or bridges for the students, as he has access to stronger materials and different equipment, which are not available to students. This keeps him to the work of a dental technician — which has been his job and passion since 1982.
Kroener tries to provide students with an understanding of their role, skills and responsibilities as students and future dental health professionals. Sharing stories about cases where dental treatment has transformed a person's life shows students they are studying for a profession that goes beyond filling teeth or treating root canals. And while the learning most often involves training at the preclinical simulation stations or working with the materials to create dental devices, it's also an opportunity to build relationships. 
Learning is something that Kroener, a musician in the local Celtic band The Residuals, likens to playing a wrong note or forgetting the lyrics during a performance. He wants students to know that it's not the one sour sound that matters, it's how they deal with the mistake and move forward.
"I tell the students, it's OK to make a mistake, it makes us human and keeps us humble – it is also a great opportunity to learn. They see me make mistakes and I try to use these times to teach by example" said Kroener, who is often greeted by familiar student faces at the band's shows. "It is really cool to see students become more confident in what they do. I have the privilege to watch young, nervous students become different people and that is very rewarding."